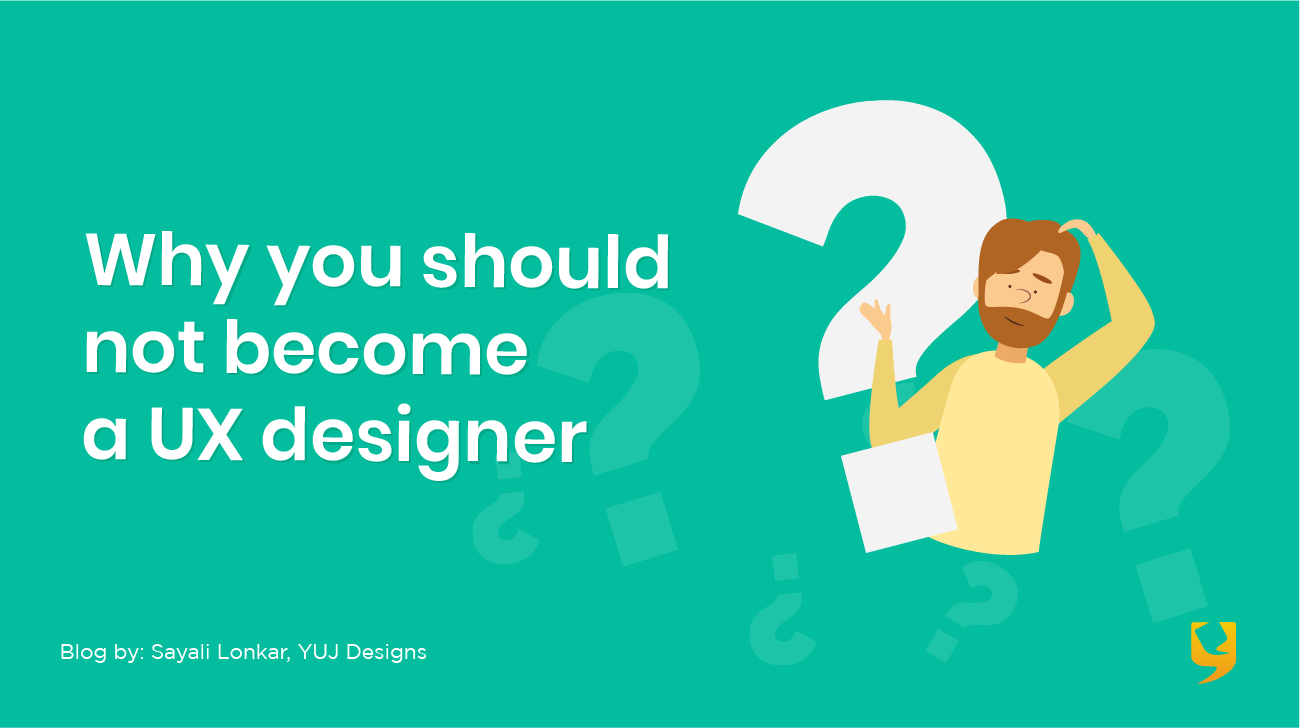 Principles and commandments to follow to become a real UX designer
The terms UI and UX are usually used interchangeably, and mistakenly – where people leading the product vision cannot really explain the difference between aesthetic, informed design and functional design. A branch of designers that design the digital interfaces, is the most popular definition of a UX designer.
Bubble of UX. Does it exist?
Very much so. The world of UX design is moving too fast. Many aspiring, optimistic beginners are joining the field thinking this is the hot trending profession one should be a part of. Resulting in the demand and supply gap. At the same time, companies are paying their designers high-scales of payment, sometimes even more than the justified share. The bubble, as many have feared, is about to burst. Design leaders are predicting layoffs in the near future cautioning the companies to balance project ROIs while giving out high paycheques to UX designers and freshers.
Effects of Bad Design:
Lack of talent, imbalance in the young aspirants-seasoned professionals ratio is hampering the design solutions. The effects of bad design can be summed up as –
Destroys brand reputation
Incurs millions of losses
Loses the customer's trust
Drastic effect on geographic, social and environmental spheres
Effects of increased demand of UX designers:
UI/UX designers are more in demand
Inflated salaries spoil the market
Fast-tracked designations imparting confusion in the design industry
What does a UX designer really mean?
It's time we stopped defining the roles and responsibilities of who is a designer and who is not. UX design is a fast-growing discipline, and we need to enlist additional complimentary skills in order to deliver the experiences people need. The rapid increase in the number of added skills required or advised for a UX designer hint at the future of the design industry, as building digital products becomes more complex everyday. Every couple of months we see new specializations, roles being coined. From UX Writing to Video editing in UX, the skills range is expanding at a whirlwind pace. It is time to set the bar of expectations high. It is crucial to go by the book now, more than ever, to prevent from spiralling into a mess and to maintain control over the quality of talent.
We have made a list of principles and commandments you need to follow, if you so wish to become a UX designer. These commandments have been segmented in 5 sections, as mentioned below –
1. Consultant Mindset
Cultivating a consultant mindset, requires a shift in mindset, being open minded to shifting ideas and other approaches.
Take Ownership
Build a Strong Knowledge Base
Practice and Master UCD Methodology
Develop the Ability to Elicit Information
Be Proactive
Excel at Design Planning & Management
2. Problem Solver
Incorporate a healthy obsession looking for a "better way" to do things.
Curiosity
Articulation
Analytical/ critical thinking
Strategic mindset
Open to criticism
Responsible
3. Empathetic
There is no User Experience design without Empathy.
Listen Actively
Be a Keen Observer
Take Genuine Interest
Respect Other's Point of View
Become a Storyteller
4. Ethical
A practice to encourage designing for humanity, ecology and human values.
Develop a Value System
Walk the Talk
Speak Less, Demonstrate More
Be Honest to Yourself
Be Extremely Sensitive towards the Impact of Design
5. Commitment
Learning and up-skilling constantly as a holistic designer is of the essence these days.
Be a Designer 24×7
Never give up on Design Excellence
Be an Advocate for Users
Learning Every-day, Every-time