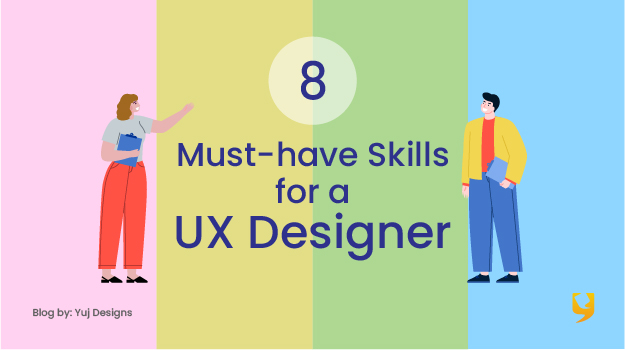 A UX designer cannot call him/herself as a good designer just because s/he can make things pretty. S/he must have skills to achieve his/her main aim i.e. providing great experiences to users. Also, to be relevant in the industry now and in the future, a UX designer must have multiple skills.
With the rapid pace of technological innovation, it is not sufficient for companies to provide products and services. In this digital era, they are getting commodified in less time. Therefore, user experience (UX) becomes important and UX designers with multiple skills are even more important. Unfortunately, we can see that there is a huge demand-supply gap in UX today, due to which design firms are struggling to get good UX talent.
Who is A Good UX Designer?
A person who can craft appealing designs is not a good designer, rather who can give businesses a competitive advantage by providing great experiences to their users through designs is a good designer. S/he should be able to bake experiences into your brand and make your product a big hit.
A good designer create designs for products or services that have an effect on users' lives. S/he should give the users what they want and this is what builds brand affinity. Users' wants are nothing but memorable experiences to which they can connect and feel more of a participant. A good designer not only satisfies users by offering desirable products/services but also fulfils a need that users don't ask, or maybe even they don't know they have it. 
Thus, if you can fulfil users known needs along with the needs that they are unknown to, you can create wonderful experiences for your users that come as a surprise to them. This helps to make them your loyal customers thereby boosting your sales and increasing ROI through UX design. So, basically a good designer is an experience economist.
UX Designer Skills
A UX designer must have great design skills that create great experiences for users. There are innumerable opportunities in market for the designers who have an urge to learn new skills and are confident to lead complex B2B projects. This is the secret of making clients' customers happy by providing them a great user experience and making clients happy by helping them increase their ROI. 
UX designer must have the following skills:
1. User Research
A UX designer must have user research skills since the designs are created based on the research done. The research provides data about users, their needs, expectations, motivations, etc. This data helps a UX designer to craft designs that give a delightful experience to users.
2. Collaborative Skills
UX designers need to collaborate with various teams to implement their designs. Good designers add ideas from developers, team members and clients. Collaboration gives you opportunity to work in other fields and apply your skills with those whose skills complement yours.
3. Wireframing and UI prototyping
In order to convince people that UX can add value to their products, a UX designer must have wireframing and UI prototyping skills. Wireframe is a blueprint of interfaces of the app that is needed for interaction. App prototyping helps to understand functionality of the design before building it. In short, wireframing and UI prototyping help to understand whether the design can be developed or not. 
4. Visual Communication
Visual communication is at the heart of UX, so every UX designer must have this skill. Visual communication skills help to create interactive prototypes and mockups that have a great impact on users. Visual communication involves understanding of layout, color, typogarphyc, icons, images and design theory.
5. Interaction Design
Good designers must have skills to create aesthetically pleasant as well as interactive design. To gain this skill, you should be able to understand how users interact with the product or service.
6. Information Architecture (IA)
UX designer must have Information Architecture skill so that s/he can organize information in a comprehensible way. Information architecture involves labeling, navigation and search functions.
7. Analytical Skills
Analytical skills are very important while dealing with data. These skills help you to understand your design and how well a user will interact with it. It also helps you to understand the connection between product and user, which helps you to iterate better designs.
8. User Empathy
A UX designer must be able to put himself/herself in user's shoes to understand their pain-points. This helps them to come up with a satisfying solution to users' problems. Therefore, empathizing with users is an important skill that a UX designer should possess. User empathy helps you to design for their needs, which can create great user experiences.
Wrapping Up
To wrap up, good UX designers must possess multiple skills. They can call themselves #DesignEconomists if they have the capability to create designs that increases user base and ultimately earns ROI for the business. Strong beliefs and ways of working make them the best UX designers in the industry. If you feel you have all these required skillsets to become #DesignEconomist and would love to work with a leading fast-paced design studio, reach out to us.
---
Amplify your brand presence with the best UX design studio that truly aligns your needs with those of your consumers! Get in touch with us at YUJ Designs, today!