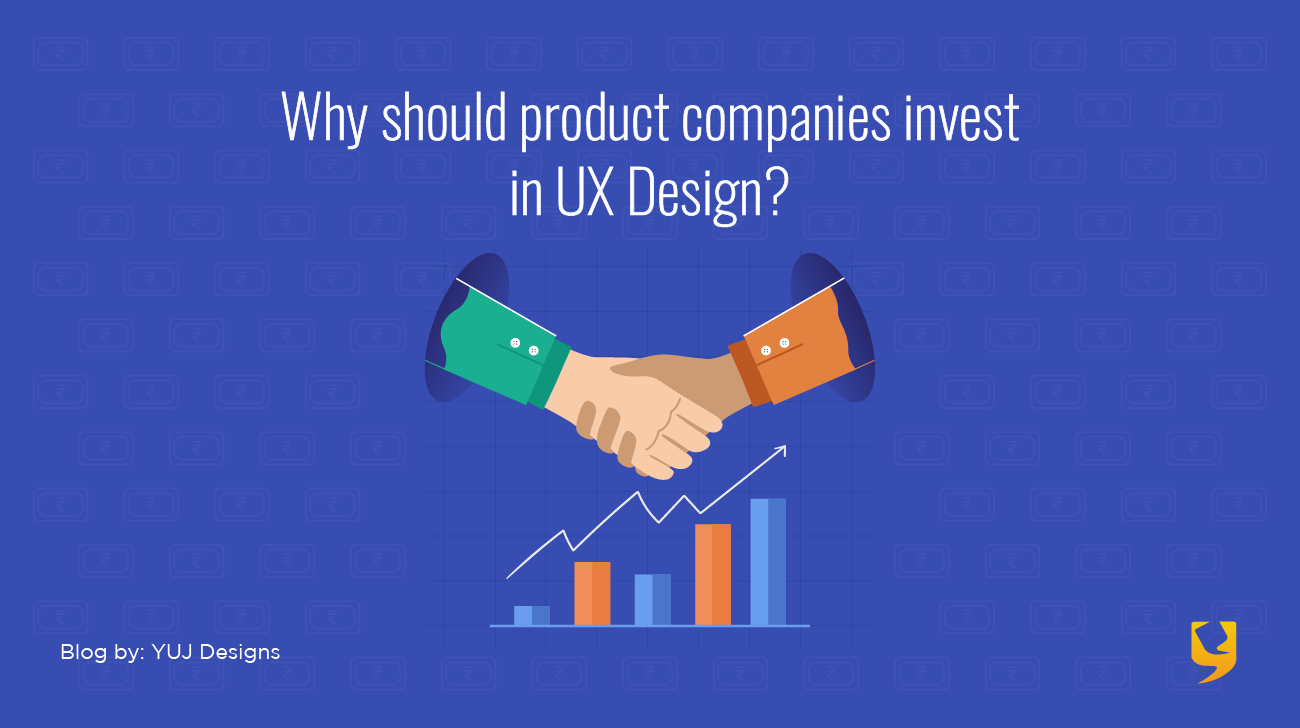 YUJ Designs over the past few years has worked with many clients – product companies and successfully added substantial value in the businesses. The value is tangible, measurable, and something that can be duplicated by other product companies for success. Let us try and understand the success mantra of some of the big players in the industry and understand their side of the story.
Last week we had the opportunity to witness a leadership webinar focused on – Why should product companies invest in UX Design? It is a guiding conversation for businesses that are on the edge of transforming their potential. We are lucky to have some of the most successful, industry bigwigs to join us in this conversation.

Sneha (Host): Today design has already proven that it is a business differentiator. We wish to understand what is the value it brings to a business, to a product, and the overall success?
Sudeep: When you look at the shift that we had, from the way application development has happened in the past. It always happened from the stakeholders' point of view. A stakeholder, or someone who's co-sponsoring the product. They envisioned a gap which these applications were built to solve, in a particular way. Though, the biggest piece we missed here is the user himself. With user experience design, we have brought the user to the center of the discussion, the product. Every time a user uses a car or space or a product these are all human experiences, that are being designed, delivered. The product was never looked at from a user's perspective earlier.
With user experience being at the core of the product, the success scale of the product has grown higher. The return on investment has become higher. The whole mind shift has brought along all this success today.
Vikram: Just to add on to what Sudeep said, about the UXD subject/ tool. We have to understand what is the gap between what the sponsor is imagining vs what the customer wants. UXD helps you re-align your requirements to what customer wants. Also saving on time and cost by not developing the unwanted features, right? The world post-COVID is a remote-first world. Even the businesses that have been around for more than 20, 50, or 60 years will have to re-invent the best effective tools. It is important to go back to user research for effective results. It is the only way to identify what a customer wants.
Sneha: Samir, you've worked with hundreds of different products. So, in your view what is the value that UX brings in terms of business?
Samir: So, both of them touched upon a few aspects of UX design i.e., the ROI on UX design. Vikram also talked about efficiency and cost-cutting. In my understanding, businesses primarily are looking for three things – increase in revenue, reduction in cost, and managing the risks.
Over the past 10 years, working on 2000+ different projects that the ROI on the UX design process right from user research to design, execution is real. We worked with a large fund in India, we designed an app for them. This was a wealth management app for high-net-worth individuals for Indian markets. For people like you and me – who were wary of investing in the mutual funds market because of the high risk. So, we completely changed the mental model of the app to cater to this fear and resistance from the users and built trust among the users. And the result was that they signed a Rs. 100 Cr. AUM with potential customers.
Another example is about increasing revenue. We worked with an enterprise product that was into process plant automation. After the implementation of the experience that was a complex process plant application, the maintenance engineers increased their efficiency by 80%. This was a real measurable output. Another client of ours providing loans for the urban markets, a year ago they did not follow the UX process. And today, they have done about 40 projects. And they have increased their digital revenue by 20%. This itself is proof that there is a tangible, measurable impact of UX.
Sneha: How much UX investment should businesses make in the product?
Vikram: That's a tricky question. There are multiple facets to this answer, I think. Firstly it depends on what are you building? How much of the product is directly interfacing with the outside world? And then obviously the budget. Though in my experience, I can tell you this that the company I worked at, at the time I met my friend Samir, went from investing about 2-3% to even 15-20% in UX in many cases. Again if it's an existing product, things will be different. The 8-15% range is something that should be looked at as a reasonable investment in terms of actual money allocated.
Sudeep: At Schlumberger, the whole design process started in a very reactive mode. And I agree with what Samir and Vikram said just now. From my company's point of view, I'd say, you need a comparison point. An example to show how UX is creating value for us. A baseline helps in comparing the results in terms of user adoption for instance. The biggest change in enterprise here, a more than 95 years old company, is the mindset change. People look at UX design as a cost, not as an investment. This mindset change is important. It can be changed by educating them. In terms of the budget, we have about 10% allocation. If you design the product in the first go, it means that you re-engineered the product. This reflects in the lesser cost in further development, the lesser cost in product support, handling the product issues. So it is the complete cycle that gets corrected because of implementing UX at the beginning of a product life cycle. All because of this one proactive measure that we take. Though, this always comes through learning.
Nowadays we envision user experience at the center in the company. Every product team wants an individual UX team. This is a wonderful experience we've seen in the company.
Samir: I wish to meet customers like them every day. Again I'd like to add to their insightful answers by speaking about a few numbers. In the earlier days of our experience, in proportion to 100 developers there used to be 1 designer. These days it has gone up from 1:100 to 25:100. A successful study revealed companies like Airbnb and Uber that had great user experience, the designer to developer ratio was much lesser there. Another well-known story that IBM revamped its entire user experience team and they invested heavily in the user experience design teams.
An important fact to remember is that the budget factor varies depending on whether the product is in the initial stage or being re-vamped. I think mid-stage and very early stage products need to invest heavily.
It is thus, a wise decision if product companies invest in UX design and do not look at it as a mere cost. This approach guarantees the delivery of better products, happier customers, motivated employees, and reduced costs. All factors building up the company's competitive advantage.