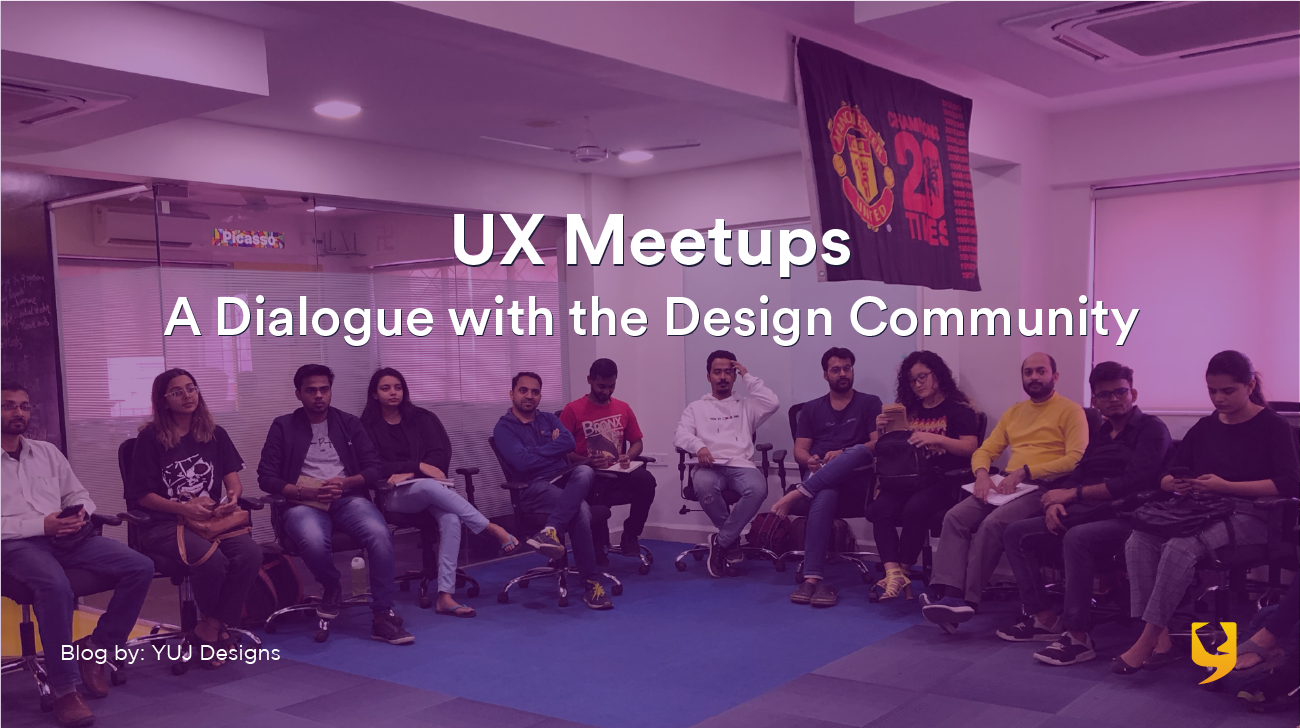 YUJ Designs is well known for its UX design services and high-quality design solutions. Though, there is one more thing the UX design studio is famous for - its culture. The foundation of all the constructive decisions at YUJ are its people. YUJ places value in the continuous development of both the culture and the individual working with YUJ.
The first thing you need to know about the culture at YUJ Designs, is that - the vision of the founders and the values they believe in are filtered through every decision taken. Design Khopcha is one such initiative where we at YUJ Designs build new ways to share our knowledge and interact with our design counterparts.
Design Khopcha meetups
Design is the backbone of everything we do at YUJ Designs. Design Khopcha is a platform where we share insights into our thinking, process, creative work, and philosophy through videos and blogs on our website. This is our way of extending the hands and establishing a dialogue with the design community. Our way of attempting to build a design literate community.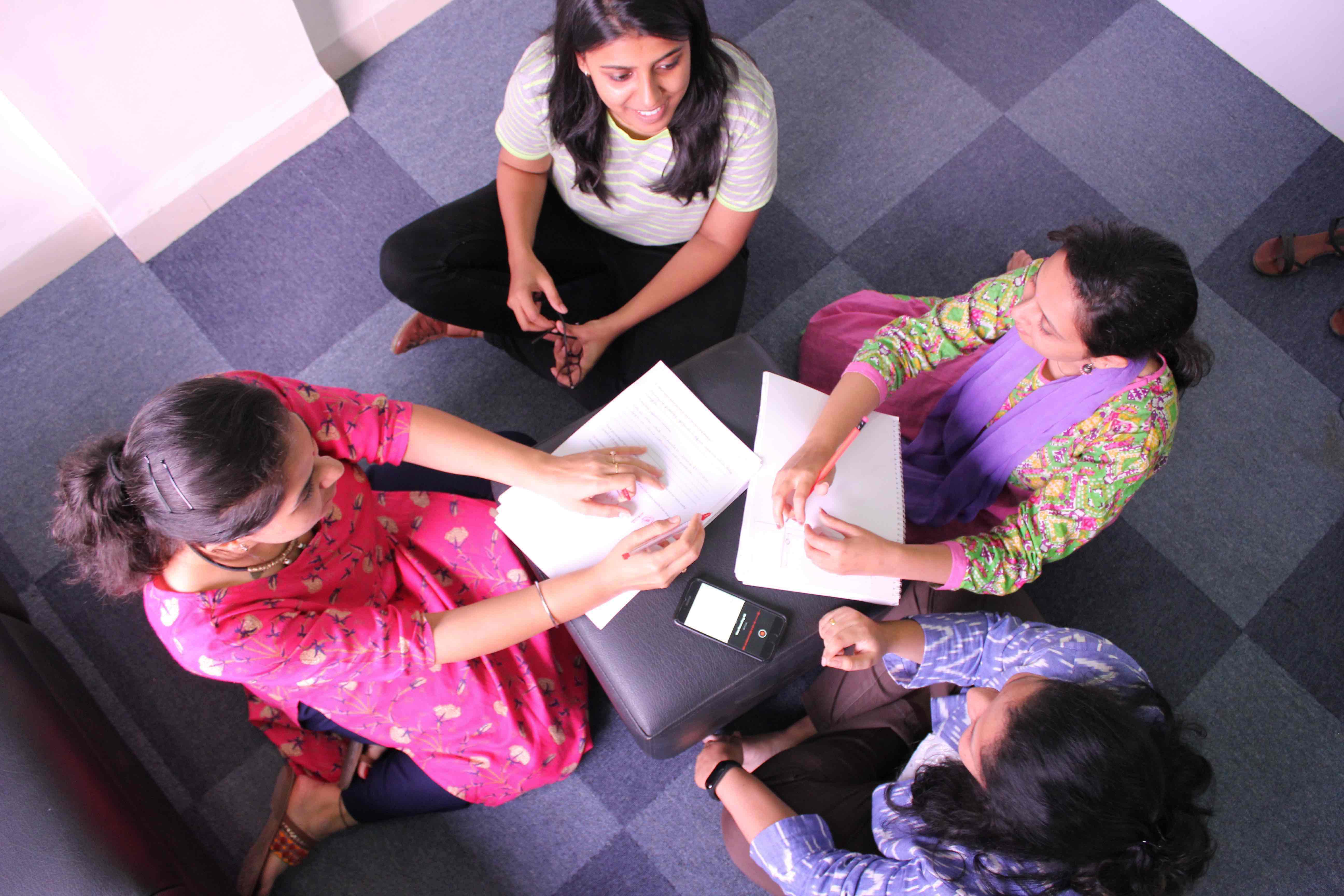 In 2019, the marketing team decided to extend the form of our initiative Design Khopcha and invite the design community outside of YUJ to take part in this initiative in the form of - design meetups. These meet ups are designed to welcome all the design enthusiasts, students, and professionals to learn from the experts in the field. We believe that one's growth and learning happens when curiosity extends beyond the community. Through this initiative we hoped to connect with our peers and counterparts and expand our understanding of design as well.
We believe that design is a vast field. The more you dig in, the more you understand. We believe in the power collaboration. It is the key to expanding one's knowledge base. Till date we have successfully conducted four Design Khopcha meetups on UX design and practices. Let us take you down the memory lane and visit the most cherished moments of the meet ups -
Meetup #1
Why You Should Not Become A UX Designer
- If only you are willing to follow the 30 commandments, you should become a UX designer. Our first speaker presented her talk on - how to become a good UX designer, followed by a Q&A session.
Solving Design Problems
- Inspired by design-related fields.
Our second speaker for the day presented a talk on - obvious and non-obvious lessons designers should learn from other industries. This being our first experience of hosting a meetup we held an open-ended QnA session.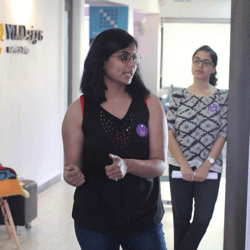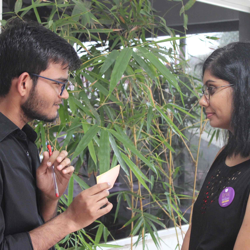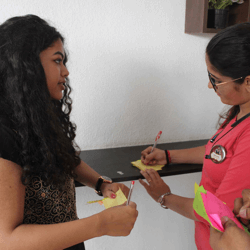 Meetup #2
We talked about the less talked about topics.
We discussed some of the nuances of the design process that many of us are aware of. Though, hardly follow. After all, we believe, it is the details that make the design more beautiful & effective.
In this meetup, we discussed on the topic of understanding visual experience strategy. The speaker helped the audiences translate insights into visual directions. Our second speaker of the meetup, conducted a workshop on user research. He used interactive methods and a practical approach to explain the challenges in user research.
For all the aspiring designers, we also conducted an interesting workshop - "How to ace a design test" based on learning by doing methodology. We received a good feedback on the overall interactive sessions in this meetup.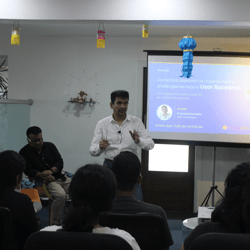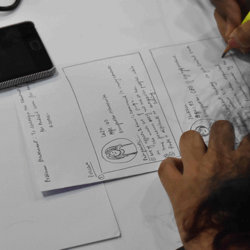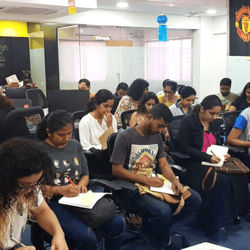 Meetup #3
Design influencing behavior and behavior influencing design
Since the last design meetup, we gathered feedback from the attendees, brainstormed and worked hard on strategies to attract and engage more audiences. We decided to focus on - why we do what we do and how to best utilize these behavioral observations to make the most compatible UX designs. Both our speakers, took us through a workshop about human psychology and its impacts on UX design.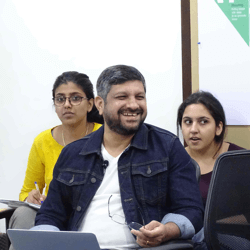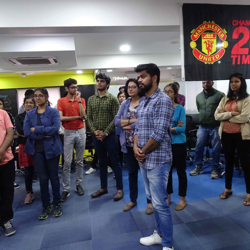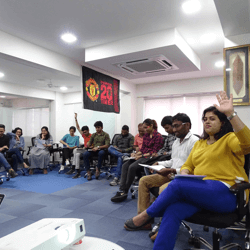 Meetup #4
A workshop on -
How to conduct a stakeholder workshop
Aim of a stakeholder workshop is to extract valuable information to set the wheels of design in motion. The secret to a successful workshop is in the art of asking the right questions. A problem well-stated is a problem half-solved. The workshop was designed to help designers to define business, product and design tools, understanding and sharing a cohesive vision. This was another successful meetup.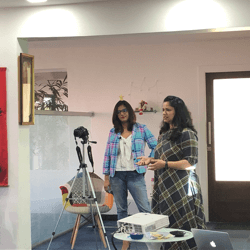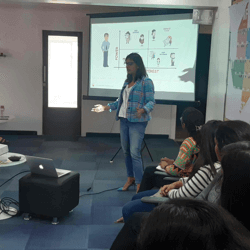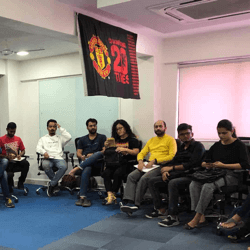 This was our experience that when audience interacts with the speaker and takes part in the discussions they feel more responsible. Introduction of ice-breaker activities at the start of the sessions have helped the attendees gel well with each other. Many of the attendees also come to these meetups with the purpose of networking. We decided to include more and more interactive sessions.
Who should attend?
UX design practitioners, visual experience designers, developers, Design enthusiasts from any background - architecture, graphic design, branding or psychology.
Interns, beginners, middle-weight designers, senior designers, entrepreneurs and business owners looking for UX design partners.
What will you gain?
Meet new like-minded people. Build connections.
An insight into the best practices of UX design.
In-depth knowledge and understanding of unique topics by some of the industry experts.
Practical understanding of UX design process and its applications.
Most rewarding career opportunities and many opportunities for businesses looking for design partners.
The experiences we gathered in all these meetups, only pumped us to plan for more. We are all geared up for the next one. In our next meetup, we are handling yet another important emerging trend in UX design. We will discuss how to practice UX design in an agile environment.
You may also be interested in What is user experience (UX) design?