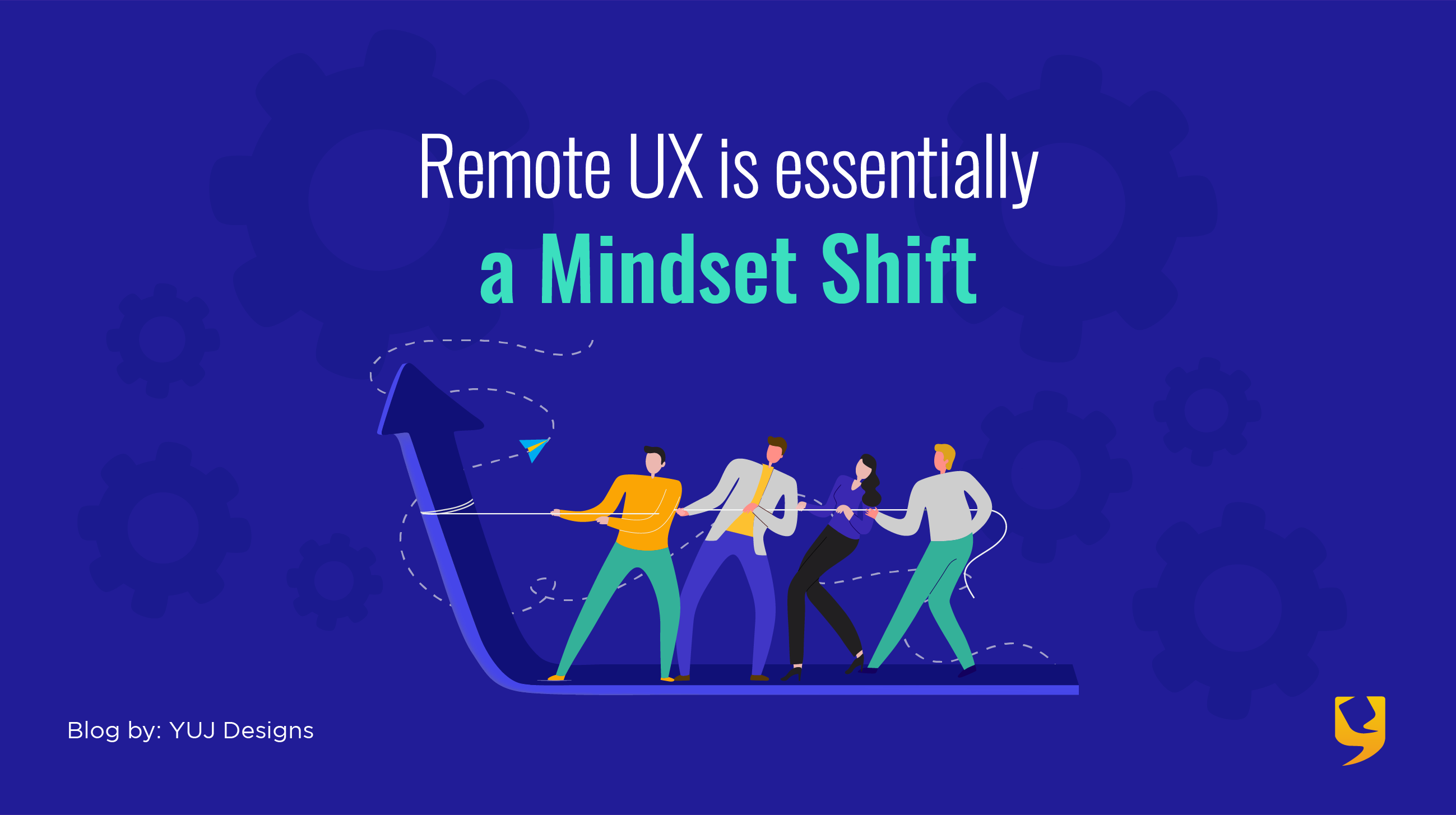 We are well past the phase of being in limbo, anticipating the change in work styles, and figuring out how to maintain business continuity amid the crisis. Most of us have been working from home for one week or more. By now, all the employees and their leaders have started realizing a crucial aspect of adapting to this new work style. And that is, the mindset.
Regardless of whether you are a design lead or a product owner or business sponsor, every small or big contributor to the business has to embrace the shift in mindset.
The first thing you do when faced with a new challenge, is research. Find out about those who managed to turn this around and make it a success. It is common knowledge that YUJ Designs has been working as a remote UX consultant for a very long time. When we discussed how to prep ourselves to work better in this 100% remote scenario, our leaders laid out a handful of guides helping us to adapt better and excel.
To quote from YUJ's experience, there will always be hurdles as one would require to contribute more time and effort to have a sense of control over the direction of projects. Given the maturity and availability of the tools and the processes for remote work – 100% remote is quite doable.
Some call it the infinite mindset. Some say it is about the exponential growth mindset. At YUJ we call these high-performers – Design Economists. These are proactive, purpose-driven people embedded in the company's culture, with an equally evolved business sense that understand the impact and value of design. These are evangelists for whom excellence matters above success.
To work remotely you require a certain infrastructure say – a computer, well-functioning internet connection, a dedicated workspace etc. Yet, remote UX challenge can be the hardest to overcome mentally. That is the reason why you require a structure. Here are a few pointers, a set of attitudes and behaviors that might help you embrace these challenges easily.
1. Going above and beyond
Remote teams need to be thoughtful, strategic and adaptable to new and better practices to make remote UX consulting, work. And an attitude of curiosity goes a long way in transforming a dreamer into a doer. Curiosity coupled with self-discipline reduces the friction and inefficiency at personal level adding value to the overall smooth functioning of the teams.
It is the attribute that does not confine us in the boundaries of our roles, but go above and beyond to ensure the projects' success. It integrates risk-taking, goal-driven work style and innovation approaches. Interestingly, this combination proves to be helpful in the times of remote UX consulting.
2. Embracing Operational Cognizance
In remote work setting, cynics fear team members won't be able to get hold of each other when they need to. This can easily be addressed by acknowledging the need to communicate more and constantly. In remote working, the frequency of contact cannot go down. Smooth communication among teams induces work transparency, that leads to higher productivity, efficiency and loyal teams.
In cases of distributed team members, even the smallest of idea, instruction or conversation needs to be communicated frequently through the right communication medium. Transparency ensures that everyone gets on the same page. An assurance that your employees can be trusted to deliver incredible work from wherever they are.
Eventually, the outcome will be a virtual workspace with better and stronger relationships with your peers, and co-workers. It is about being empathetic and having faith in the intentions and abilities of your team members.
3. Engage and Impact
Remote UX work means a dynamic, evolving teamwork. The probability of work schedules being changed is usually high. In these times, one faces difficulties in communicating with others and cutting through the chaos with undeterred pace becomes a challenge. It is very important for people to make meaningful connections with the team members.
Establishing an inclusive attitude towards all is important. Remote working can get lonely for some. Reflect inclusivity in conference calls, meetings. Include on-on-one discussions with all your remote UX team mates. Team experiences become more important than ever.
4. Collaboration, not Cooperation
The shift in mindset, a requisite for remote UX work, can be mastered by understanding the attitude, habits and beliefs that emanate from the mindset. At the same time, it is also important to learn about how the mindset plays in terms of a team effort. This mindset is all about collaboration.
Collaboration, not cooperation. Cooperation is helping other teams when needed, whereas collaboration translates into working on the project together. Collaboration is more interactive, inclusive and is a symbol of frictionless teamwork. Collaboration works when there are higher levels of trust among the members of the team.
Also, the success of collaboration depends on the culture and tools being used. A well-established culture at the company makes it easier to trust the teammate and usage of more inclusive tools makes this an effortless work making highest UX impact a reality.
These guides form a foundation for remote UX teams, to not just survive but achieve excellence through their work. Once these changes are embraced on an individual level, the effects will influence better productivity in remote UX teams on a much larger scale.
These guides form a foundation for remote UX teams, to not just survive but achieve excellence through their work. Once these changes are embraced on an individual level, the effects will influence better productivity in remote UX teams on a much larger scale.