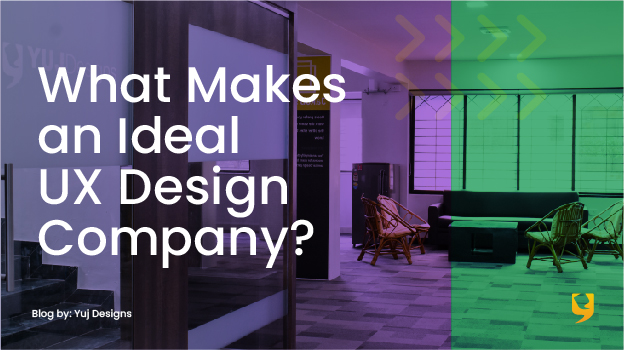 Today's world is all about the people. It is crucial to understand why a consumer buys a specific product or a service. The answer lies in empathy. We, as customers buy services, products that make a difference in our lives.
This is an era where business leaders need to invest in customer-centered products rather than business-centered products. Higher the success of one's products, higher the success of the business.
This is where Design as a facilitator comes into the picture
UX design company can help these businesses deliver experiences, products and/or services that can create a difference in the lives of its customers. UX design company can be a major player in this transition and make a larger impact.
Their strategic contribution can effectively facilitate channeling of the product objectives, resulting in business conversions on a much larger scale. These UX design studio partners with the business in co-creating the right experience for the customers.
They practically assist in building innovations and shaping our future.
Let's examine how do we identify an ideal UX design studio.
1. The Chief
Inspiring Vision of the Future
Successful businesses don't just discover their path to success, but they succeed by exploiting the fullest potential of every opportunity and every talented resource that they have. These companies are led by visionaries, opportunists and excellent decision-makers. They envision a holistic view of the future and let data drive the strategic route and decisions.
At YUJ Designs, we open a two-way dialogue between the senior management and every person who represents YUJ, so that everyone can benefit from their wisdom and can share the same vision and work on it together.
We believe UX is domain-agnostic. And having said that, even though the talent at YUJ may have expertise in a specific domain - a stakeholder interview always helps the collaboration to explore nuances of the domain that need to be considered for contextual design.
2. The A Team
A Highly Motivated, Dedicated Team
82% of companies don't believe they recruit talented resources. Out of the 18% who do, only 7% think they can retain the people.
Business leaders of top UX design agencies know that talent is truly valuable and scarce. They work hard towards attracting and retaining the talent in the company. An ideal team of talented people, are an inquisitive bunch aligned with the organization on strategic agendas.
Leaders, project managers who can make better decisions and execute clear strategies, who also use management models creating a level-playing field for all teammates.
We YUJ-ians take pride in the fact that we are an ever-evolving bunch of talented people, building a community with a purpose. We have built a culture of design and encourage applying design thinking throughout the company, and at all layers. Organizational creativity is a big part of the YUJ-culture where we sculpt #DesignEconomists - design evangelists that have the ability of understanding the business, economies equally well as design.
89% of employees at companies that support well-being initiatives are more likely to recommend their workplace to others.
Statistics like these, prove to us that a well-built company culture is an important step while seeking ubiquitous success. An inspiring studio culture sustains employee enthusiasm, which means better company performance. A culture where there is a baseline of openness, where people have freedom and take ownership of their responsibilities.
At YUJ we value learning attained through work and are united by curiosity. People who like to contribute in organizational changes. It is a matrix where every individual detail is as important as the bigger picture itself. Similarly, improving people relationships can change the company culture immensely and increase individual creativity and productivity.
It is no wonder that Amazon's Jeff Bezos believes in seeking candidates who will positively influence the people they work with and bring a new strength to the company.
This approach holds steady in our experience, where a balanced outlook and open communication helped us build an unambiguous culture that has fostered many accomplishments.
4. Modus Operandi
The Design Process: Backbone of Design
A well-defined design process minimizes the unnecessary explorations, wastage of time & financial resources and maximizes the work force & cumulative efforts for optimum results. In case of more dynamic projects, being able to adapt is crucial. And while staying loyal to the design process, always question the status quo.
A work system where you continually evolve your design and embrace the importance of user testing. This in turn, aids the team to be timely, efficient and data driven at the same time. The process is essential to the success, though adaptability even more so. 
We believe in meticulous execution of the process and design systems creating high-quality UX designs. We are constantly working on adding value to the design system, our core strength.
 5. The Panoramic Approach
Achieving Business Goals & User Satisfaction
Among hundreds of consultancies, what sets an ideal UX company apart is their ability to approach their work in a holistic way. These companies focus on how effective the product is going to be to the user at the same time focus on accomplishing business targets, increased revenues etc. YUJ Designs has been known to work with clients to cultivate and deploy their ideas in an effective way, to achieve business goals as well as deliver a delightful experience to the end-users.
In a crux, visionary design leaders, expert teams who culminate these visions into reality, their sustaining work culture, the design process and the holistic approach form the most important components, the key ingredients that make up the best recipe for a successful UX design studio.
If you are a UX Designer on the hunt for a dream job or a businessman looking for the right answers searching for a top UX design studio to collaborate with, or an aspiring entrepreneur, hopefully this article will give you a broader perspective about the key pointers to look for in a company.
You can read more about how to hire a UX agency/ partner here -
https://www.yujdesigns.com/hiring-ux-agency-partner/