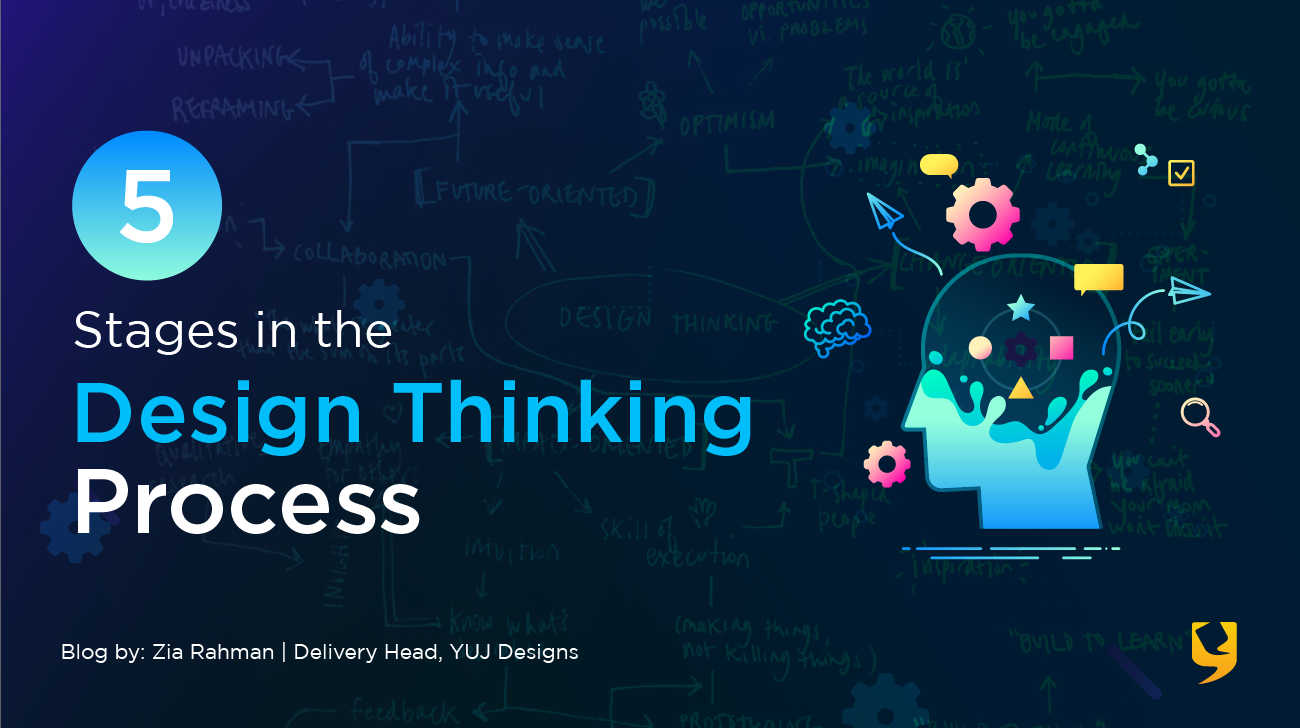 Design thinking is a buzzword these days since it has emerged as an essential ingredient for digital transformation success of any company. Today's CIOs are now talking about it and planning the strategy to adopt design thinking as a tool to innovate new solutions. 
Leaders of large companies are looking to quickly embark their digital transformation journey. But, this is not an easy task because in this journey, technology, business process and working model requires a large change at all levels. This is where design thinking comes as a saviour to innovate new business solutions. It helps organisations to surface out the exact complex and undefined problems.
Design Thinking Process
The process of design thinking starts with getting a deep insight into the consumer needs and wants. Then analyze the gathered data, identify the rare problems and create innovative or alternate solutions to address these problems.
There are 5 steps in the design thinking process - empathize, define, ideate,  prototype and test. Let's see all these steps in brief:
1. Empathize with Users

Empathize, as the name suggests, is a discovery phase to gain an empathetic insight into the user and their real needs. Here, a team of experts meet the users and try to find out the concerns by observing, monitoring or empathizing with them. In this way, they understand users' work function, expectations, emotions and pain areas.
2. Define the Problem

After the field study, you put together all the information you have collected in the first step. This is where you analyze, observe and then synthesize the data in order to define core problem areas. Make sure you define the problem in a human-centered way, which will help you to solve user (human) problems.
3. Ideate New Solutions

In this step, you are ready to generate ideas and new solutions to the problem statement that you created. You can start looking for alternative ways of viewing the problem. In return, you may find alternate solution to the problem. It is good to have as many as possible ideas to begin with. Then using some ideation technique, you can investigate or test your ideas so that you find a best possible solution to the problem.
4. Prototyping

In this step, you can create conceptual prototypes of the product in order to investigate possible solutions to the problem. With each new prototype, the team investigates different aspects of the problem and explore how each prototype would fix the problem. From here, the team is ready to move on to the final step since it will have a better idea of users' behaviour, feelings and expectations.
5. Testing of Prototypes

At this stage, you can test your selected prototypes with internal stakeholders or actual users and see how well they solve the problems. This process allows you to go back to the previous stage, revise information, and rectify the errors to get the best output of the product.
By end of this stage, you would get an idea whether the produced solution is accepted, needs improvement, needs to be re-examined or completely rejected altogether. This will help you to understand how your user will feel, behave and react while experiencing the end-product.

Wrapping Up
This is pretty evident now that in today's fast-moving digital world, it is highly critical for companies to adopt new technologies, transform their business models and create new value system. It is also difficult for businesses to create a successful ecosystem and thrive in highly competitive market. Design thinking is an effective tool to tackle these problems that this transition brings up.