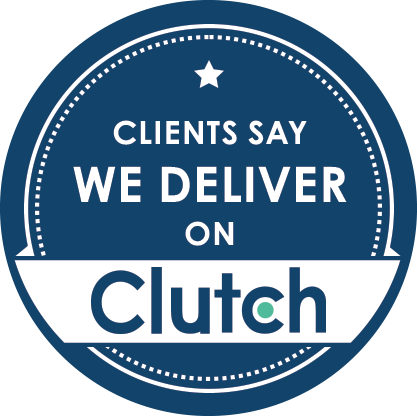 Beyond the awards and recognition, a consistent factor in the growth and pride of our team lies in an important aspect – our clients. Through meaningful business relationships, we're able to grow, improve, and evolve constantly. We place a high value on these experiences and want to showcase the projects that have motivated us to succeed time and time again. For that reason, we've partnered with Clutch to give an inside look of our operations and provide onlookers an intimate view of what it's like to work with us.
Clutch is a B2B ratings and reviews platform evaluating over 7,000 companies across 500+ industry verticals ranging from UX design agencies to phone answering services. Their objective is to match the buyers and sellers on their site in order to harbor fruitful and successful business relationships. The root of Clutch's analysis rests in client interviews, where their team speaks with a company's references on the trials, solutions, and outcomes of their time working together. Intertwined, Clutch incorporates a multi-faceted scoring methodology that takes into account a company's market presence, industry recognition, and clientele. They are thereby able to identify top performing players in an industry, providing buyers with a complete, objective view of the business landscape.
Evaluating our expertise among other user experience agencies, Clutch has begun speaking with some of our clients about their work with us. Here are some of the things they've had to say:
"They're unique in their understanding of UI/UX. One resource, in particular, has exceeded our expectations in terms of strategic thinking and balancing things out in the short- and long-term. They're the kind of designer I would hire in a heartbeat,"
explained the Executive VP of IT for a private life insurance company.
Another client, the Product Manager for a marketing consulting firm, highlighted our project management skills:
"I thought the project management went very well. I didn't want to have to keep track of the team or micromanage them…I was pleased with their results, and I didn't have to worry about constantly reaching out to them."
They touched on what they thought made us particularly unique:
"They have an extraordinary ability to do research. They don't just design in a vacuum; they truly solve user needs. A lot of places claim to have that skill but don't do it well or rely on a single technique…that kind of adaptability and expertise is exactly what we wanted."– product manager for marketing consulting firm.
The Project Manager for an educational company touched on our collaboration abilities and style:
"They're knowledgeable in their area and acted like a true partner, rather than as a vendor. YUJ Designs understood our domain and came up with ideas for influencing prospective customers and impacting our business. I appreciated their consultative approach."
To learn more about our clients' experiences visit our Clutch profile here. To get in touch with us to help work on your next project contact us here.