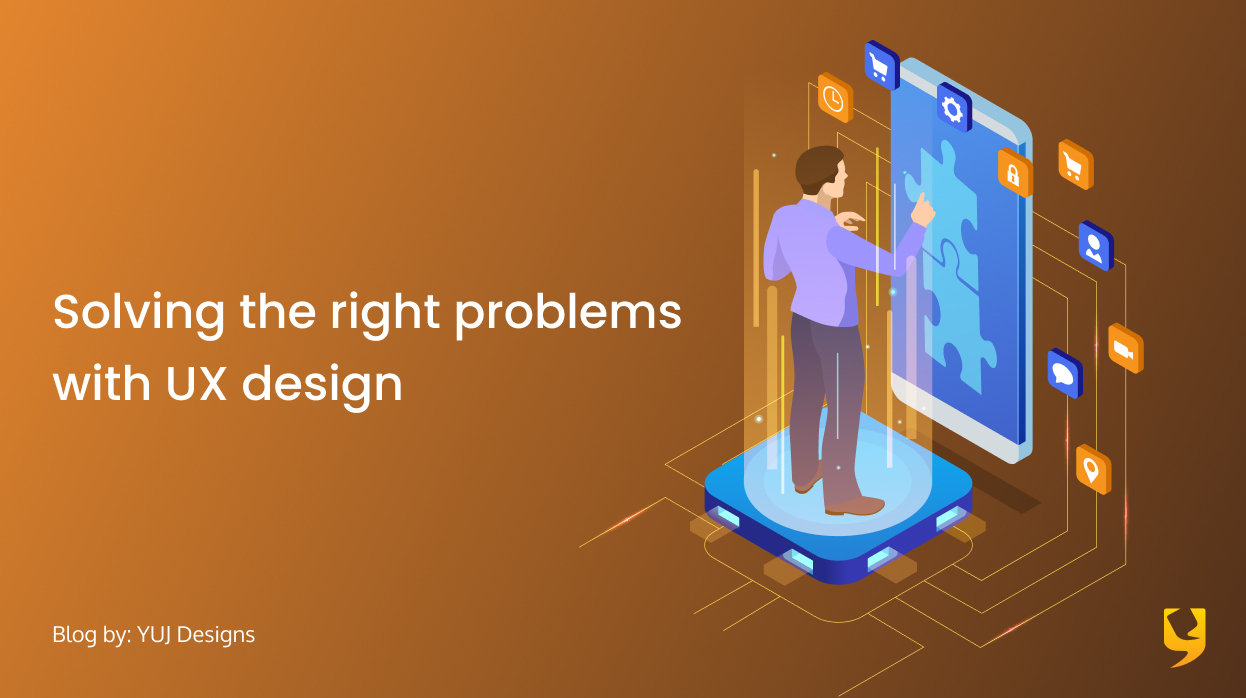 Human-machine interaction drives our daily lives today. Businesses all around us are using technology as the ultimate differentiator. Though the gap between the competitive advantage is lessening day by day. The business challenges organizations and corporations face today, are much more complex and tricky. To solve these complex problems, help businesses deliver innovative solutions to alleviate their customers' problems – UX design becomes the perfect tool.
What UX is not. Addressing some myths –
UX Design is often confused as an artifact, which it is not. UX design does not equal a website, a UI designed post product development to beautify the app.
UX is not Usability, or painting screens, or just creating wireframe
It's a systematic approach to solving problems.
What UX is.
UX design is a systematized, non-linear, human-centered approach. It is inherently a multidisciplinary field that requires a strong ability to collaborate with complementing functions.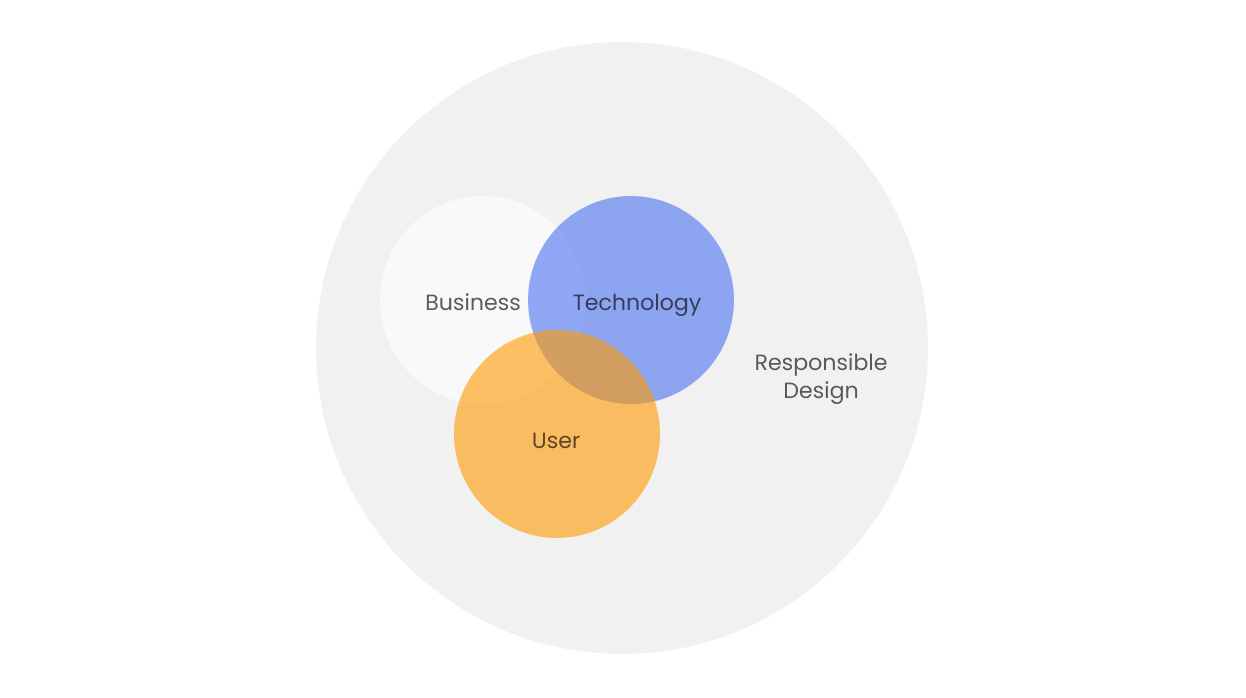 Today, technology is available to everyone throughout the world. The way consumers communicate with the business is changing. Customers seek comfort in the knowledge that businesses are making smart use of technology to improve their experience.
In such times, businesses need to seek strategies to add value to their customers' lives differently. The key for businesses to differentiate themselves today – lies in the Experience they deliver. UX design can essentially help businesses differentiate from the competition.
One of the fundamental questions to ask about UX design is, "What problems is UX solving?" UX design solves business challenges to make the end-customers' lives better, in turn making business profit and prosper in the future. UX can solve any day-to-day problems to complex system challenges, e.g. –
Enhancing the quality of life of cancer patients
Translating complex and new technology for the end-users
Increasing operational efficiency by solving workflow automation problems
UX is a human-centered approach to solving business needs, creating an impact that generates business growth and touches human lives.
UX design helps businesses deliver faster and more relevant experiences to the users. UX helps one understand the behavior patterns, needs, expectations of the users in-depth. Through deep user research, one can identify these aspects and design solutions in an appropriate language that would engage all of the users adding value to their lives. Eliciting and identifying the right data to be converted into meaningful insights can help businesses deliver differentiating experiences by solving the right problems.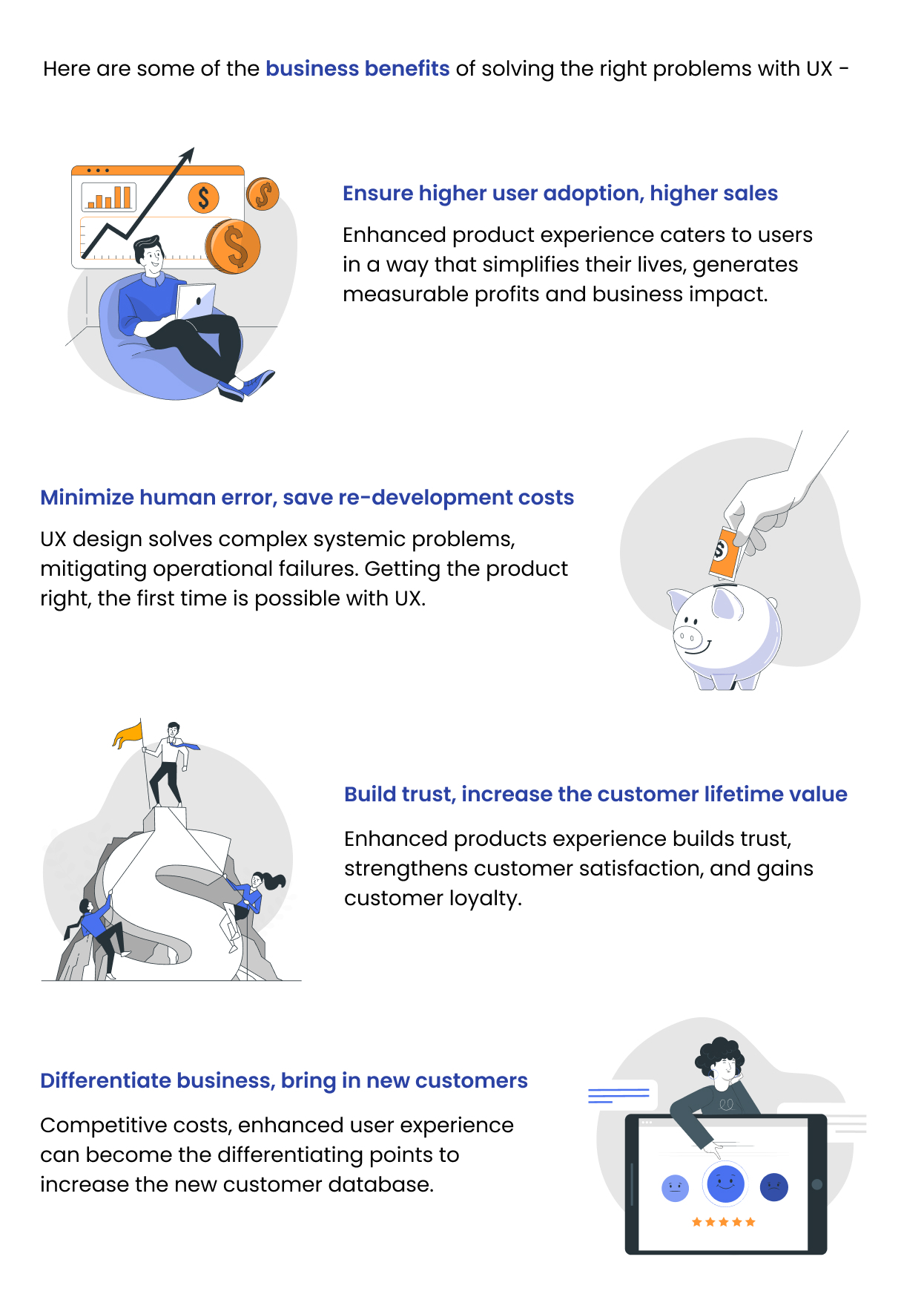 Cope up with disruptions in business and community

Technology is developing at such a rapid pace that job descriptions can barely keep up, let alone entire industries. Customer behavior is changing, impacting the consumption and demand of products.
Product relevancy to the changed consumer behavior has become of utmost important
And that's why the businesses need to practice UX, to find out if their products are addressing these changed behaviors right? If the products can cater to the current needs better? Whether their products are solving the right problems?
What is it that the customer is trying to accomplish? What is it that the business is offering to them? Why should customers choose you above other competitive brands in the market? One starts by asking the right questions about customer goals, and business goals. UX marries customer goals with business goals and optimizes the use of technology. It is a very powerful tool to solve the problems businesses and systems prefacing today.