In A Nutshell
India has witnessed rapid growth with increase in new-age industries. But, the shortage of skilled manpower is looming large. Millennials represent 65% + of the demographic within all organizations in India. While they are dynamic and driven, they may also easily get de-motivated and distracted.
Skills Alpha is a web platform that enables organizations to re-imagine the talent skilling continuum by identifying business needs, capturing employee aspirations and aligning them with business goals through assessing skill-knowledge maturity, adaptive learning and inclusive peer development.
The platform is accessible from company desktops, laptops and mobile phone using native Android and iOS apps.
Defining The Problem
Employees usually assume growth as a natural progression either based on years of experience or occasional training they may take. However, the reality of business is that skill requirements change as markets change. Employees are stuck with age-old skills that are not updated. Over time, the skill gap increases and the cost of new skill acquisition goes up.
The idea of 'Skills Alpha' is to help employees know their career direction, and gain clear insight into their skill gaps right from the moment employment begins. This assessment coupled with the skills plan of the business helps employees keep up the growth trajectory for themselves and that for their organization.
How should employees explore their career paths? What if there are multiple tracks that each one of them could take? What if their aspirations were somewhat different? What if they had doubts? Our challenge was to represent all of this through a user experience that was intuitive, interactive and easy to use.
We started by reaching out to the users. The employee (learner), a typical BU head and L&D manager to understand their needs, expectations, likes, dislikes from a skilling platform.
In addition, through a co-discovery workshop with business owners, SMEs and product managers, we laid foundation of understanding of the business idea, the users and the core problem areas to focus while designing the user experience.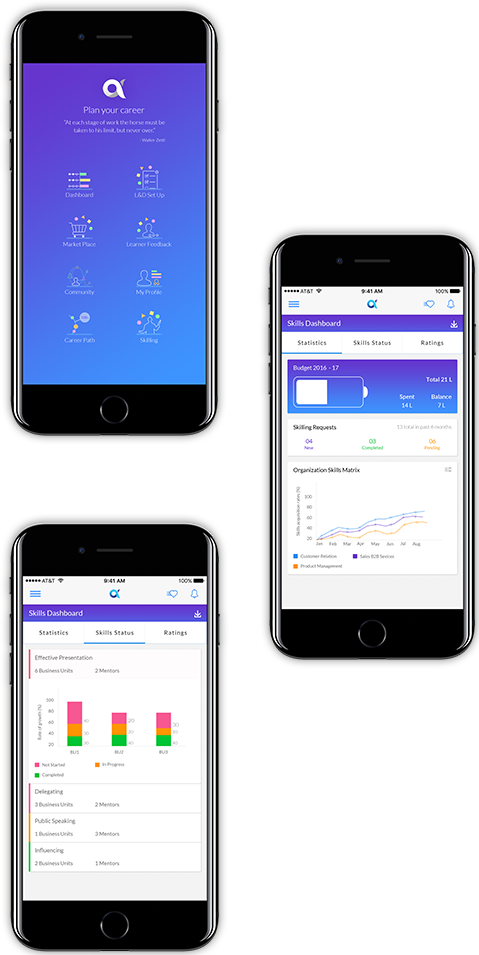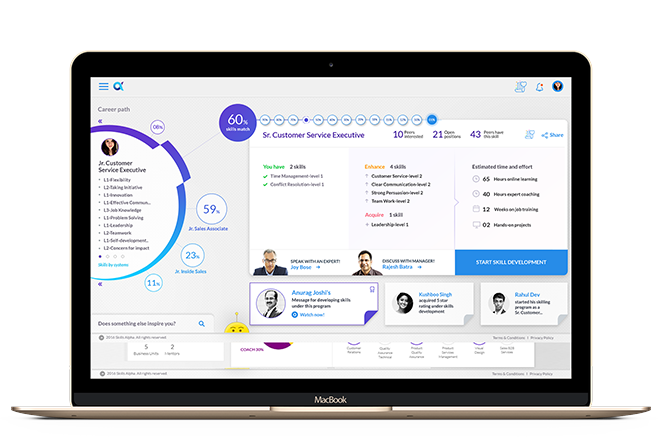 Concept and its uniqueness
The core focus of the design was to help employees understand the relation between their current role, possible future roles, skill building and growth-a window that shows the interdependency between skills and possible career paths. All this they could do in their own time, comfort and privacy. Competing concepts were created to show employee's current role and a facility to explore the multiple career paths.
Taking this central idea forward, the employee gets to add career paths to a wish list and compare them for skills required. In other words, for each career opportunity we made sure that the employee clearly saw the skills they have, those that they need to enhance and acquire from scratch. They also got a glimpse into how much time and efforts they would need to cover the skill-gap.
The User Experience
We informed the design through series of desk and user research activities.
Some of the key findings tells us that employees don't tend to discuss careers openly. Due to High power-distance* in India, employees tend to follow what the company prescribes as job, duties or responsibilities. They attend to authority and not tend to question hierarchy as much (Thought this seems to be changing slowly with time). Hence, growth is seen slow.
High value is given to application of what's been learnt in school and institutes increasing the academy — industry gap. Occasional training programs in the industry are mostly perceived as a formality to complete or imposed than an opportunity of growth. Hence, it seems employees look at work as a job than a career (Uncertainty avoidance*)
Based on Hostede's cultural dimensions Considering these insights, the web platform is designed as a self-exploratory and assistive tool. It enables employees to explore their career options within organization. He or she can do this privately without the fear of doing it in front of others (especially managers and known peers). This makes the concept personal and one that they can exercise control over.