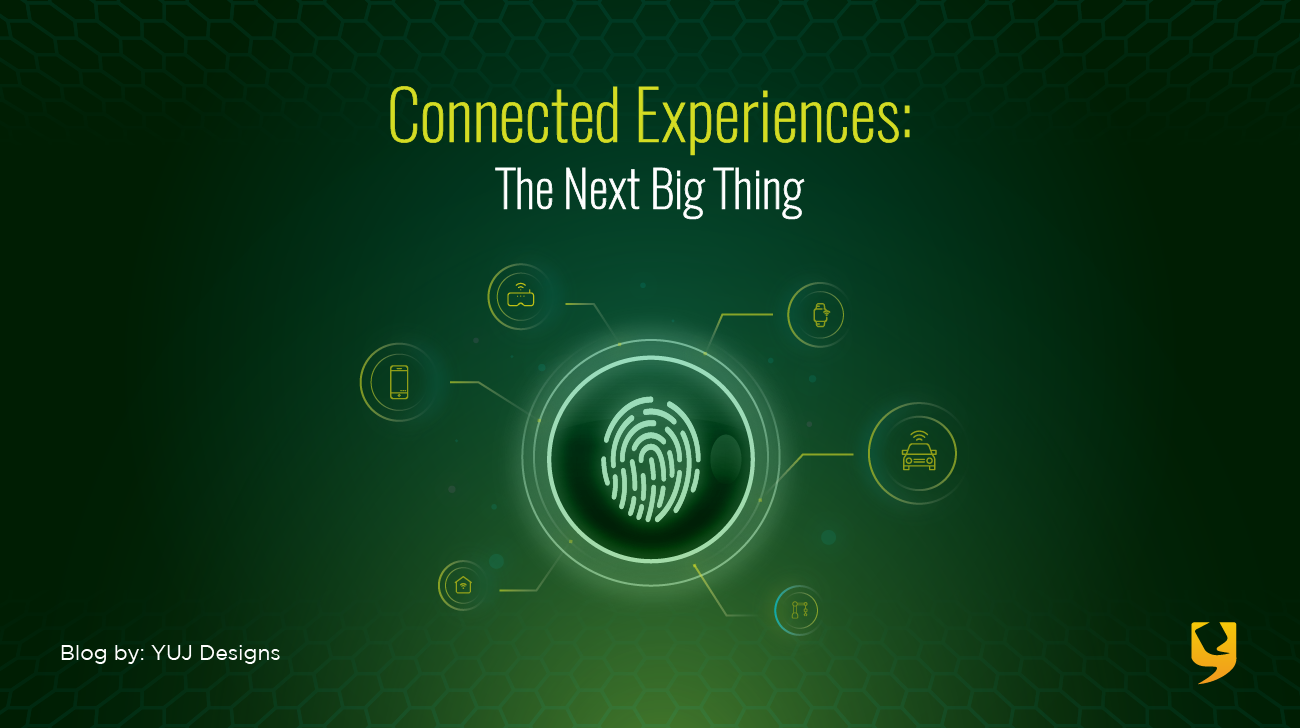 We have been talking a lot about how UX design is going beyond the realm of the screens. How home appliances, cars are getting connected by cutting-edge applications. Let us understand what connected experience is and what does it mean for the economy? And the value UX design will bring in. Let's dive deep and understand the concept of connected experiences from the stalwarts who have seen the field emerge and have had their fair share of experience of working on such projects.
This conversation with some of the industry bigwigs on the impact of design will shed light on how the companies collaborate effectively and demonstrate the business value of UX design.

Prasadd (Host): What does this whole concept of connected experiences mean to you?
Jayraj: Connected experience for me started with IoT. When we decided to connect physical machines. That's when slowly we started using sensors for the machines, then Uber came around, they kept the track of their vehicle's location. In a crux, it all comes down to connecting with things around us, interacting, and engaging with these. Apart from these, I want to bring in the perspective of how government services especially in India are changing the game by making the services also connected. We should also bring in the enormous opportunities, changes, and the impact that we can bring by connecting government services for people. Huge amounts of opportunities there. Engaging with people through your product and services is – connected experiences, to me.
Rajkumar: I think, I echo everything that Jayraj said. A few things I'd like to add to that – connected experiences for almost everyone is connecting different people, in different contexts, in different assets and spaces. Either you're at home or in an office building, whether on-road or in an airplane – we live in an environment. Though there are times when the interaction happens between two machines, within an ecosystem. Some of these interactions you don't even see. The interactions that you feel, and don't see are becoming big today. Connected experiences are bringing in data together in a meaningful way that can be manipulated positively to show some helpful insights.
Samir: It's interesting to be a part of this conversation where one person is looking at it as a different entity like a government to citizen interaction and Rajkumar on a bit philosophical note today, saying it is a ubiquitous experience. From the lens of UX, I feel it is a wider problem recognition and wider problem definition. Not limiting itself to the current tasks at hand but, to look at the broader context. So, connected experiences mean a real augmentation of certain capabilities that humans have. We study human factors by considering their capabilities and limitations. I believe it is all about reducing the limitations and enhancing the capabilities. When you look at the function allocation problem between humans and machines; it's going to get trickier.
Prasadd: You know, as designers 20-25 years back the print media was the big thing. Today, all of this has transformed into various technology. How has it impacted yours, your customers' businesses? And probably the end-users' life? Can you throw some light on that?
Jayraj: These examples are from the pattern I've been observing for years. Let's take the example of a car. If it's a really smart vehicle, captures all the information about the drive and engages with the user. But, the question that begs to be asked is – are the manufacturing companies ready to act on the information?
Another example I'd take is the real-time data collection work we're doing with the Andhra Pradesh government. This is a smart-state kind of work. Here the government is keen on knowing if the sustainability goals are met with. By collecting all the possible data, with the help of complex algorithms running in the background they're able to tell the farmers what to sow in the fields. Imagine the impact here! Now you're guiding the masses here in a scientific way to do something worthy. Whether a government or an enterprise company, how do you figure out to engage one-on-one? is the big question. As they're not used to doing that. That's where the impact is going to be.
I think every bad time creates opportunities. Opportunities that we cultivate in products, we are proud of as a company.
Rajkumar: From an impact perspective, I can think of it with respect to two aspects. It is about the impact on businesses and users. Prasadd you asked for an example, so these days you can connect people with equipment and space, primarily to collect data and provide delightful experiences. There will come a time when you will no longer have to wait for the elevator, the desk will adjust itself for you and so many other examples. You have control over how the space around you should behave, this is a great impact of the effort behind connected experiences.
So, here's another example from a residential system scenario. How do we respond to anomalies or incidences that happen in the building? We act faster, detect a fire early on, provide better safety measures because of the connected systems. In case of fire, you can also keep a watch if the evacuation is done 100%. All this applies to smart cities, smart states. These are some of the benefits of the impact of these connected experiences.
The bottom line, these experiences have the potential to make your space more sustainable, reduce carbon footprint, save big time on costs. These I think are huge benefits that connected experiences or even entities bring together. Another important impact of this change is, now you will be selling experiences not products. So your business model will change.
Prasadd: What does the future of connected experiences look like?
Samir: Connected experiences will need to be driven by experience design. And technological advancements will lead us to the future of connected experiences. Today, we're thinking about human-centered design. In the future, we'll think about Human-AI-Humane-Centered Design.
Jayraj: It's probably going to be scary. The more we're connecting things the more we're exposing ourselves to things we don't know. We all should be careful about what barriers we should not cross.
Rajkumar: I think in the future, the most important thing will be the matter of privacy vs convenience. Exciting things are going to happen. Scary, but magical.
Here is an UX case study you might be interested in.
Pioneering Connected Vehicle Experiences