In A Nutshell
A spatial hub designed for the crew of a leading American Airline, 'SpotOn' is a project with elements of visual design, branding and user interface design. Its primary goal is to help its staff increase the ground level efficiency by solving their day to day technical hurdles in an efficient, centralized manner.
Defining The Problem
With the increasing number of mobile devices used by airline staff there is a greater need for a platform that facilitates quick, easy and effective way to resolve technical hurdles. The SpotOn hub facilitates a quick response time by the IT services team, and is embedded in the daily routine of the flying staff, thus making the process seamless. A solution that is easily accessible, provides quick assistance and doesn't need any prior training to use were few of the design goals that we aimed to achieve. Logo Concept
The first high impact contribution was the design of the logo that was inspired through key attributes of the SpotOn hub service- timely and accurate service for the airline staff.
Web & Mobile UX
The design of a mobile and web app complemented the formation of the physical hub. These applications supported the functions of the tech hub and helped staff book appointments, get quick responses and solve their challenges faster.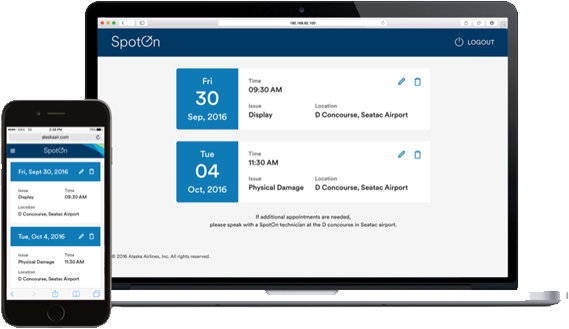 Technology Hub
'SpotOn' is a physical space- a technology hub - where Pilots, Flight Attendants (Air Hostess, Stewards) and Customer Service Agents get help from the field ITS teams for any technical challenges they face. Easily spotting a 'SpotOn' hub was one of the key user goals. The design of the space, identity, and signage's was critical in achieving this goal.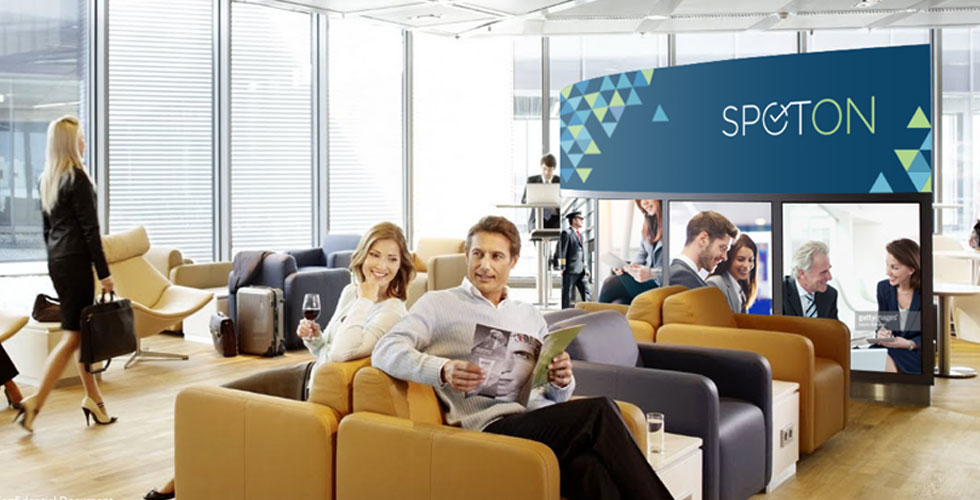 Signages and other Artifacts for the Physical Space
The airport is a place that is always bustling with activity and this makes locating a person or space a challenging task. Therefore maintaining a uniformity of the visual language was done to enable easy recognition of any staff member, product or signage associated with this space.